The Late Antiquity Reading Group (LARG)
at Yale invites all students, faculty, and members of the public who are interested in late antiquity to gather together. We discuss common, pre-circulated works in progress or recent publications in the field. Often, guest scholars join us to discuss their new work. 
We will meet several times during the academic year. Due to the pandemic, we will meet virtually this semester. 
Materials for each discussion will be circulated three to four weeks in advance. We ask that you read the material in advance of each meeting. To be added to the group's mailing list or to receive the materials for our next meeting, please contact Camille Angelo (camille.angelo@yale.edu). You can also join YLARG's Facebook group to stay up to date on upcoming events.  
Co-Conveners: Camille Angelo, Shira Eliassian, Elizabeth Lavender, Hannah Stork, and Ramona Teepe
Faculty Advisors: Maria Doerfler and Noel Lenski  
YLARG is Made possible through the generous support of Archaia, the MacMillan Center, 
the Yale Program of Judaic Studies, the Yale Divinity School, and the Yale Departments 
of Religious Studies, Art History, Near Eastern Civilizations and Languages, and Classics.

 
Fall 2021:
October 25th, 5:30-7:30 pm EST - https://yale.zoom.us/s/98363656136
Special guest Julia Watts Belser (Georgetown University) joins YLARG to discuss her recent book Rabbinic Tales of Destruction: Gender, Sex, and Disability in the Ruins of Jerusalem (2017, Oxford University Press). This event will be run as a 90-minute interactive discussion over Zoom. All are cordially invited to attend and participate. We ask that all participants read Chapters Two and Four of the monograph in advance of the event. LARG members can access the assigned reading here.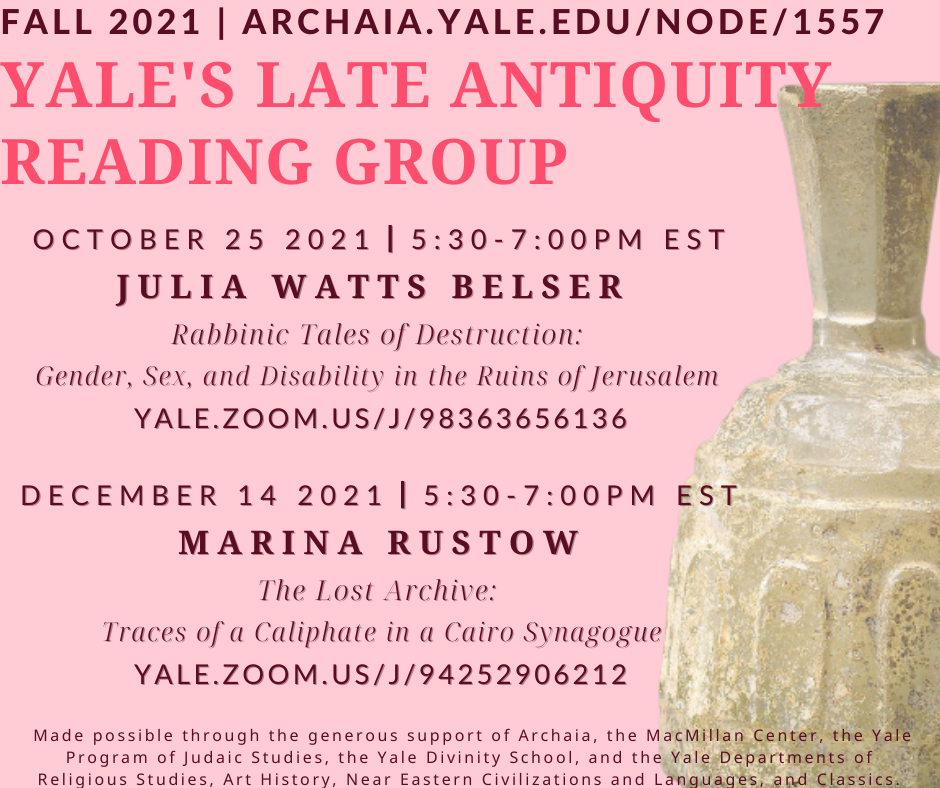 Spring 2021:
May 4th, 12:00–1:30 pm EST -  https://yale.zoom.us/s/94013148521
For our final event of the academic year, we will be hosting a conversation with Reyhan Durmaz (University of Pennsylvania) and Felege-Selam Yirga (University of Tennessee, Knoxville). Our discussion will focus on the changing boundaries of "Late Antiquity."
We will read two short pieces for the event—one by Dr. Durmaz, one by Dr. Yirga. Because both pieces are in the pre-publication stages, we will not be circulating them widely. If you are planning to attend this event, please write to Hannah Stork (hannah.stork@yale.edu) to request the readings. 
March 16, 12:30-2:00 pm EST-   https://yale.zoom.us/j/91260786382
Special guest Yifat Monnickendam (Tel-Aviv University) joins LARG to discuss her newest monograph, Jewish Law and Early Christian Identity: Betrothal, Marriage, and Infidelity in the Writings of Ephrem the Syrian (Cambridge University Press, 2019).  This session is open to the public. We ask that attendees please read the introduction and chapter four in advance of the event and come with questions. LARG members can access the assigned reading here.