Ancient Societies Wor​kshop and Core Seminar
This interdisciplinary workshop serves as a meeting ground for those who work on the ancient world at Yale, and is an important forum that allows sustained conversation about a common theme. The workshop meets once a month during the academic year, and is supplemented by the core graduate seminar in the Archaia program. Presenters include Yale faculty and graduate students, as well as occasional visiting professors. The chronological scope of the seminar extends over the first millennium BCE and up through the premodern period; issues of reception are also considered. 
The theme for 2023-2024 is "Ancient Musical Though," with a focus on ancient China and ancient Greece, co-taught by Pauline LeVen and Mick Hunter.
This series examines the entanglement of music and musical thought in various forms of social, political, and religious behaviors across ancient cultures, with a particular focus on Greece (LeVen) and China (Hunter). Rather than focusing solely on musical practice or music theory, we ask how ancient thinkers made sense of music, and how they used music to make sense of the world. Questions we are interested in include, but are not limited to, the following: How did ancient thinkers understand the place of music within society, the ideal state, and the cosmos? What role did musical training and connoisseurship play in education? What musical forms were used for conceptualizing other ideas (political, metaphysical, religious…)? How was the relationship between music and wisdom represented? And how do the answers to these questions inform comparative study?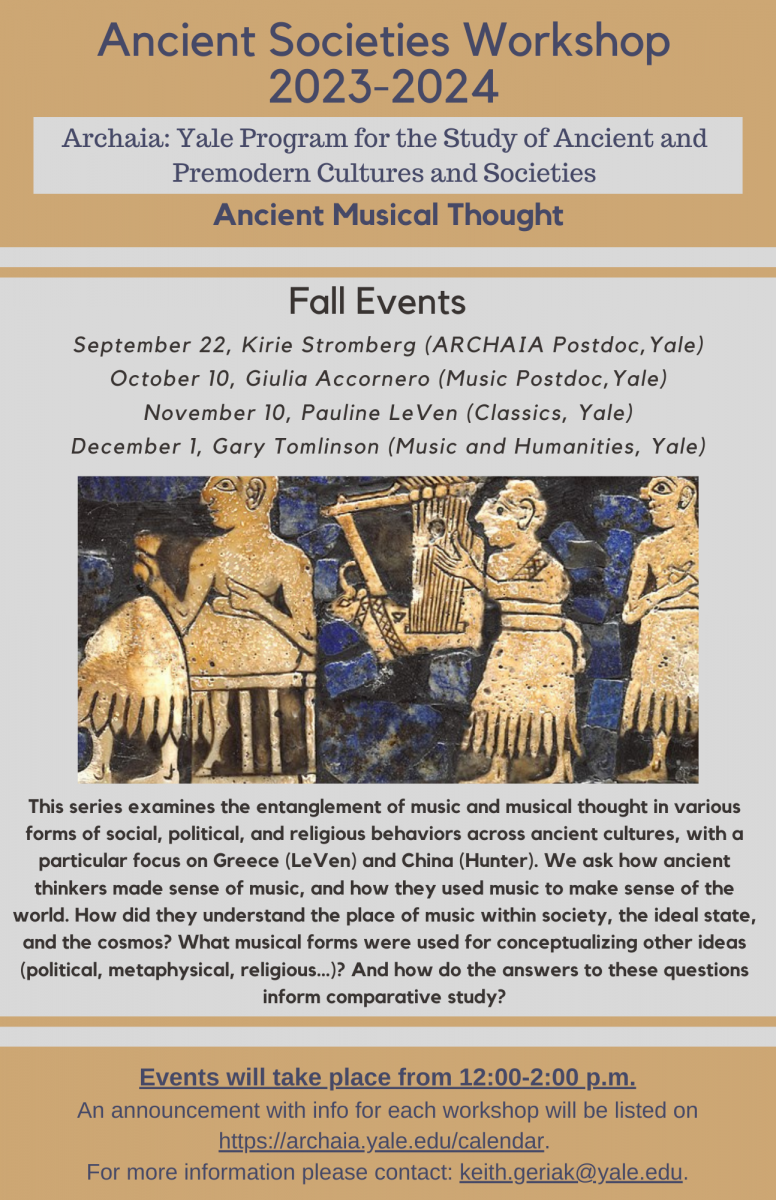 Organizers Mick Hunter and Pauline LeVen
List of Ancient Societies Workshop themes from previous years
Confere​nces
For more information, register here:  https://campuspress.yale.edu/duraeuropos2022/
Previous Conferences 
"In the crucible of Empire: resistance, revolts and revolutions in the Greco-Roman world", October 30–31, 2014.
Please visit this page for the conference proceedings
Workshops
The Archaia Forum is an interdisciplinary working group for graduate students who work on the ancient and premodern world (broadly conceivd). We welcome students of any historical period in any geographical region to join us in discussion of what it means to study the past. We will meet once a month for events of various types, including roundtable discussions, professional development, and student presentations. The Forum is intended as a venue for those involved in the the Archaia Qualification to workshop their capstone projects. Our overarching goal is to provide an open and collegial space to build community, receive feedback on research, and engage deeply with interdisciplinary themes and methodologies. We will issue a call for presentation proposals at the beginning of each semester, but we also welcome proposals and suggestions for other events on an ongoing basis. Any questions and concerns should be directed towards the coordinators, Eleanor Martin (eleanor.martin@yale.edu) and Thomas Munro (thomas.munro@yale.edu).
Women in Ancient Studies Forum (WASF)  Women in Ancient Studies Forum at Yale University is a forum for scholars in ancient and premodern studies that builds an academic community across disciplinary boundaries. No matter which region or premodern period you study, which department you are affiliated with, or which methodologies you use, we hope you will check out some of our events. Our monthly meetings range from panel discussions and receptions to smaller lunches with faculty members. The one common theme is bringing people from different disciplines and career stages together and discussing questions pertaining to women, academia, and professional development. We're interested in identifying and naming systemic problems, but also in creating spaces to address these problems. Several of our events are also designed especially for women in ancient and premodern studies to build professional relationships at every stage of their careers.
Cultures of the Classical 'Cultures of the Classical' was a network running from 2011-2017 that drew together scholars at Yale who work on receptions of Greco–Roman Classical Antiquity, and the Classical Tradition (including comparative Classical Traditions and rival antiquities). We are particularly interested in complex plays with the past in which texts and works of art, and indeed whole cultural movements, have appropriated aspects of Classical Antiquity while simultaneously asserting their distance from ancient Greece and Rome.  The scholars involve remain at the cutting edge of this kind of research.
Greco-Roman Lunch is sponsored by the Classics Department and is held bi-weekly, on the first and third (and sometimes fifth) Mondays of the month in the Fellows' Room at Saybrook College. The invitation list consists of faculty and graduate students from the Departments of Classics, History, Art History, EALL, Judaic Studies, Religious Studies, and others, and they convene at 12:00 for lunch followed by a presentation by one of their number at 12:30. A presentation of up to 30 minutes is followed by questions. The focus of papers ranges freely from literary to archaeological to cultural. Lunch is provided free to those who are not on a meal plan. For more information please contact the organizers: Sylva Kroeber and Emily Helm (Classics).
Medieval Lunch Colloquium The weekly Medieval Lunch Colloquium brings together medievalists from a variety of departments in the University for informal presentations and discussion. At each meeting, a speaker presents work-in-progress to an interdisciplinary audience of graduate students, faculty and staff working in medieval studies. Speakers include both Yale faculty and graduate students, with occasional out-of-town guests.
The Hebrew Bible Lecture Series is co-sponsored by the Yale Divinity School and the Program in Judaic Studies. Every year it brings to campus some of the most significant scholars in the field of Hebrew Bible and Second Temple Judaism, both junior and senior, to share their recent research. These lectures make available to the Yale community the breadth of scholarship currently being produced on ancient Israelite and Jewish history, literature, beliefs, and practices.
Yale Lectures in Medieval Studies The Medieval Studies Program organizes Yale Lectures in Medieval Studies, an interdisciplinary lecture series which brings to Yale America's most creative scholars of the Middle Ages, presenting innovative and exciting work in fields such as paleography, codicology, liturgical studies, music, history of art, archaeology, history, literature, and philosophy. The series, which is run by students in medieval disciplines, emphasizes intellectual diversity and rigorous scholarship and is a vital part of Yale's interdisciplinary approach to the medieval period.
The Annual Rostovtzeff Lecture and Colloquium
The lecture honors the legacy of Michael I. Rostovtzeff, a titan of Ancient History and one of the greats of twentieth-century historical scholarship. Rostovtzeff taught at Yale from 1925 until his retirement in 1944. He was a world authority on Hellenistic and Roman history and wrote widely on ancient history, particularly in the field of economic history. The annual lecture brings scholars to Yale who work in areas pioneered by Rostovtzeff, but whose field-changing research takes Ancient History in new directions.
Visit Rostovzeff page at the Yale Classics website
Archaia Study Tour
The 2023 study tour to Greece and Turkey is being led by Laura Nasrallah and will take place April 30-May 15, 2023. 
Feedback
Please email us your suggestions or let us know what we have missed.