The Archaia certificate provides intellectual opportunities to graduate students with wide-ranging interests in the ancient and premodern worlds, extending their studies beyond departmental lines and incorporating methods from the social sciences and the humanities. Students fulfill the requirements of their home department, with a course of study individually tailored to allow for rigorous interdisciplinary work via seminars and independent study. The certification is open to graduate students at Yale. For details, see the Graduate School of Arts and Sciences Programs and Policies.
Submit your application for the Archaia Graduate Certificate at this link.
The Core Seminar
Offered each year in the spring, the core seminar is normally a team-taught class sponsored by two or more of the cooperating departments. Specific topics vary, but each seminar has significant interdisciplinary and comparative dimensions emphasizing the methodologies and techniques of the fields involved. Students are required to attend the parallel monthly Ancient Societies workshop which features presentations by scholars from Yale and visiting faculty on problems related to the theme of the course.
The spring '22 seminar, "Digital Humanities for the Premodern World,"
will be taught by Anne Chen (Archaia postdoctoral fellow) and Holly Rushmeier (Computer Science).
Designed around a series of hands-on skill-building activities, and punctuated by contextualizing lectures, this course will introduce a variety of Digital Humanities methods, tools, and debates of relevance to the study of the pre-modern world. To provide continuity and a common-reference point, activities and demonstrations will be oriented around the archaeological site of Dura-Europos (Syria), and will allow students to engage firsthand with data, artifacts, and archival materials from the site. Sample topics include: introductions to Python and Javascript; basics of front-end and back-end web development; photogrammetry; Linked Open Data (LOD); digital gazetteers; controlled vocabularies; web annotation; applications of machine learning. No previous digital humanities training or coding experience is required. 
The spring '23 seminar, tentatively entitled "Ancient Musical Thought from Homer to Confucius" (

CLSS 411/611, EALL 205/505, MUSI tbd, HUMS tbd), will be taught by Pauline LeVen (Classics) and Mick Hunter (EALL).  
List of previous core seminars
Alumni
Dr. Nicholas Kraus
Fritz Thyssen Research Fellow, Institut für Altorientalistik, Freie Universität, Berlin
2018 Ph.D., Assyriology
Dissertation: "Scribal Education in Sargonic Mesopotamia"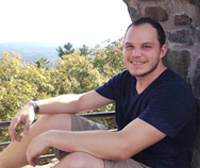 The Archaia program is an excellent complement to graduate studies in ancient and premodern fields at Yale. It provides a chance to interact on a regular basis with other graduate students and faculty from a diverse array of departments, and to study ancient cultures outside one's primary focus. Participating in Archaia's central component, the Core Seminar, greatly enriched my graduate experience at Yale, giving me new perspectives on my work and prompting me to think about my research within a larger historical framework.
I also profited a lot from participating in the Archaia field trip. The trip is another great opportunity to learn about the ancient world and meet other graduate students at Yale and abroad. The experience of visiting ancient sites and museums and simultaneously have lively and engaging discussions was unforgettable, and I cannot recommend such an opportunity enough. I found that placing myself in a physical location outside of a classroom, while being able to learn about and interact with ancient materials, made me more conscientious of the fact that the materials I work with are not only historical documents but also physical objects. The experience enhanced my doctoral research and still informs my research today.
For the past year, I have worked as a Fritz Thyssen Research Fellow on an edition of a lexical list from third millennium Mesopotamia at the Freie Universität in Berlin. In the coming two years, I will continue this work, and put it in a broader historical context, as a Humboldt Scholar. I cannot be sure that having obtained the Archaia Qualification helped me receive these two grants, but I would not be surprised if it did.
Jennifer Weintritt
Assistant Professor of Classics, Northwestern University
2019 Ph.D., Classical Philology
Dissertation: "Troy Story: The Greek Epic Cycle in Latin Epic"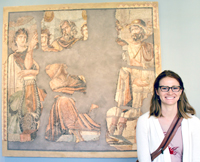 Thanks to Archaia, I'm starting my first year on the job with three projects that have interdisciplinary appeal on my docket. The driving idea behind my dissertation, that narrative continuation can be used to shape literary canons, first took shape in an Archaia seminar on theories of authorship and canon. That same seminar also planted the seed for my capstone project, a comparison of the rhetoric of translation in a Latin text and Hellenistic Jewish text, which I am developing into an article. Over time, I collected case studies from Archaia seminars, lectures, and the summer study tour in Iceland to design an interdisciplinary course on global classicism, featuring units on Japan and Scandinavia. I had the opportunity to teach this class at NYU in my sixth year, and I expect it will be one of my regular offerings at Northwestern.
Graduate Student Initiatives
The Ancient Judaism Workshop
An Ancient Judaism research workshop, intended to offer a setting for graduate students to share their current research with their fellow graduate students. This workshop allows a sense of academic sharing within the program and offers a suitable setting for students to present their work for evaluation and feedback before presenting their work to the larger academic community. The workshop also invites faculty members to share with the workshop's participants some of their most recent research projects, in order to allow a vibrant atmosphere for academic discussions among faculty and graduate students. The workshop occasionally invites participants from other universities to share their recent academic findings, especially if the person in mind has recently completed a research project of interest to the participants of the workshop.
The Pre-modern Gender & Sexuality Working Group (PGSWG)
The Pre-modern Gender & Sexuality Working Group (PGSWG) offers a forum for students and academic fellows to meet and tackle questions and problems with like-minded colleagues who have a shared interest in gender and sexuality as well as the pre-modern. Thus the group also addresses issues of sources, methods, and frameworks for the study of pre-modern societies.
The Archaia Forum 
The Archaia Forum is an interdisciplinary working group for graduate students who take the distant past as their object of study. During the Fall term, we will meet five times in Phelps 401 in order to discuss key themes and current trends in interdisciplinary study of the premodern world in a workshop format. Each week will cover one theory or trend that multiple disciplines share in their study of individual regions and time periods. Past years' themes have included the integration of history and the hard sciences, defining the "premodern", and cross-disciplinary approaches to genre. During the Spring term, over the course of another five meetings, we will focus on the sharing of original research by participants, with priority given to work-in-progress presentations by graduate students completing capstone projects for the Archaia Qualification. Our scope for the term "premodern" is broad: we welcome students of cultures across the globe and periods across the ages to share their approaches to the past.
at Yale is an interdisciplinary gathering where students, faculty, and members of the New Haven community gather together over food to discuss common, pre-circulated works in progress and recent publications in the field of Late Antiquity. Since its inauguration in 2017, the group has met approximately once a month during the academic year. These meetings provide a collegial space in which participants can have a shared discussion about a work's merits and limitations and engage with literature that is often outside their immediate area of expertise. In recent years, we have discussed a variety of titles, touching topics as diverse as climate change as a driver of imperial Roman decline and sensory stimulation in the Byzantine liturgy. Once a semester, the group also invites an established scholar from another university to present a chapter on which they are currently working. Past guests have included  Kim Haines-Eitzen and Aaron P. Johnson. For more information, contact Hannah Stork (hannah.stork@yale.edu), Elizabeth Lavendar (elizabeth.ridgeway@yale.edu) and Camille Angelo (camille.angelo@yale.edu).  
Participating Departments and Schools
Classics
East Asian Languages and Literatures
History
History of Art
Judaic Studies
Near Eastern Languages and Civilizations
Religious Studies
Yale Divinity School
Department of Anthropology 
Yale University Art Gallery